Weddings and Receptions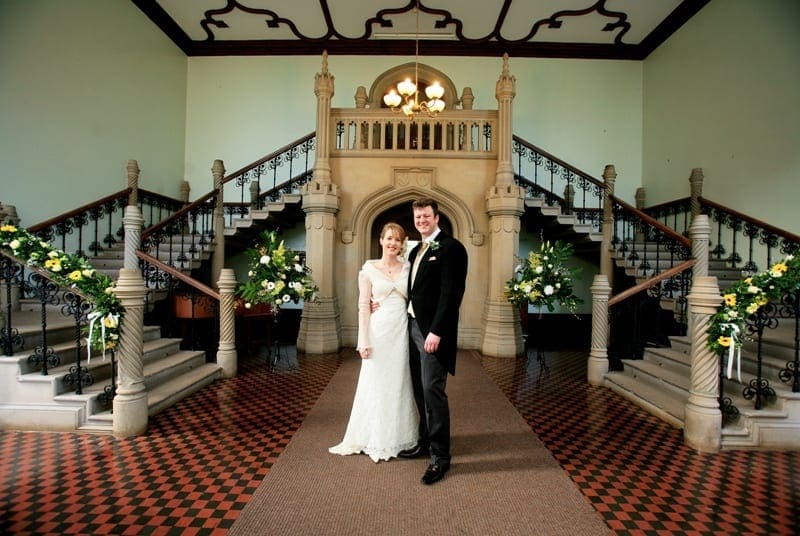 Wedding Ceremonies and Receptions
Longridge Towers School transforms into a warm, bright and special venue for your wedding. Guests will appreciate the ease of travel here by rail or road, and the ample parking is only a few metres from the buildings. Your day can be entirely under cover, or you can take advantage of the sunshine for photographs or just taking time outside during the day to stroll and admire the views.
"For better or worse"…..the weather will not spoil your special day here at Longridge. Our beautiful indoor and outdoor facilities mean you can have peace of mind and simply enjoy the celebrations.
We can offer several options for your ceremony and reception:
The Concert Room
We are justly proud of this special hall. It has an ornate high ceiling, is airy and bright, with stunning Victorian features and a polished wooden floor. Suitable for your ceremony or your reception, we can accommodate up to 120 guests. There is a large alcove, perfect for the grand piano, or your own musicians.
The Grand Entrance Hall
This beautiful space features double curving staircases, with intricate ironwork and beautiful carved stonework, all enhanced by the original tiled floor. Any bride would be excited to arrive at the large portico, to alight in the dry, and then ascend a few steps through the imposing double wooden doors into the magnificent Entrance Hall. Here too, there is ample space for the grand piano, or a small ensemble, with seating for 50 guests for a more intimate wedding.
The Marquee
We can accommodate larger weddings in our indoor marquee which will comfortably hold up to 250 guests. This space can be configured as you would like, and we can instal a slightly elevated level for your "top table" or musicians.  Chandeliers, ribbons, fairy lights or natural decorations have all been used in the past, and really make this a special place for your wedding.
The warm colour of the sandstone Victorian building makes a perfect backdrop for photos, inside or outside, and your photographer will find many special corners and views, with extensive greenery and lawns. Our graceful staircases, with the ornate ironwork, provide an effective and attractive group photo setting. The elegant portico becomes an interesting frame for those special pictures, and in spring, we have carpets of snowdrops and daffodils and blossom trees outside if you wish to be creative.
Whichever option you choose, Longridge Towers would be exclusively yours for the whole day; you decide how simple or elaborate you would like your day to be, and we will be on hand to help. We can put you in touch with our nominated suppliers for catering, flowers, photographers and much more if you wish.
For further information on weddings, and to arrange a visit, please contact our Events Co-ordinator: Sheena Fleming on 01289 307584 or email: [email protected]
Longridge Towers School has been approved for the solemnisation of civil marriages and the formation of civil partnerships in accordance with the Marriage Act 1949 (as amended) and the Civil Partnerships Act 2004.