Sir Alec Douglas-Home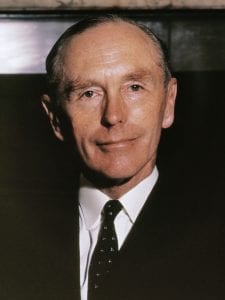 Former Prime Minister and President of the Longridge Towers School 1983 – 1995
Sir Alec Douglas-Home was born in Mayfair, London, into an aristocratic family. The Homes were an old-established Scottish family, tracing ancestors back to the 1200s and the Earls of Dunglass. David Hume famously fought at Flodden. Sir Alec Douglas-Home attended Eton College followed by Oxford University, where he graduated with a BA in Modern History. He also played first class cricket for prominent clubs.
In 1931, he entered Parliament as a Scottish Unionist Party MP for Lanark. He served as Parliamentary Private Secretary to Prime Minister Neville Chamberlain from 1937 to 1939.
After his father passed away, he became the 14th Earl of Home and took a seat in the House of Lords. He served as Commonwealth Secretary during the Suez Crisis of 1956, in addition to holding the positions of Leader of the House of Lords and Lord President of the Council.
In 1959, the Conservative Party under Harold Macmillan won the General Election. The following year, Sir Alec Douglas-Home was appointed Foreign Secretary. He remained in the role until 18 October 1963, when he became Prime Minister.
On October 23, 1963, Sir Alec signed an instrument of disclaimer of four titles of Scotland – the earldom of Home, the lordship of Dunglass, the lordship of Home and the lordship of Hume of Berwick, one United Kingdom peerage – the barony of Douglas and one British peerage – the barony of Hume of Berwick. He remained 'Sir' Alec because he had been created a Knight of the Thistle in 1962. Sir Alec Douglas-Home only served as Prime Minister for 363 days but he oversaw the abolition of resale price maintenance and took a tough stance in dealing with the trade unions. On August 5, 1963, he signed for Britain the nuclear test ban treaty which had been arranged with the US and the USSR.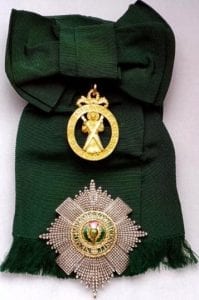 During Sir Alec Douglas-Home's premiership, American President John F Kennedy was assassinated, and relations with Kennedy's successor Lyndon B Johnson deteriorated after the sale of British Leyland buses to Cuba. Macmillan famously described Sir Alec Douglas-Home to the queen as 'steel painted as wood'. He went on to serve as Foreign Secretary throughout Edward Heath's premiership from 1970 to 1974.
The Order of the Thistle is the greatest order of chivalry in Scotland, recognising sixteen Knights with the highest honour in the country and recognises Scottish men and women who have held public office or who have contributed in a particular way to national life. The Order is second only in precedence in England to the Order of the Garter.